DSCP
for chamber orchestra, Theremin, and infrared sensors
All the versions of this article: [English] [français]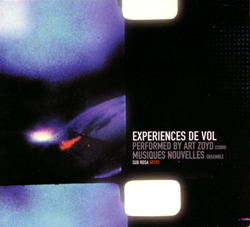 DSCP is a piece for chamber orchestra and two electronic instruments that capture performer gesture. The Theremin is a historical instrument using electrostatic field perturbation. D-Beam infrared sensors generate MIDI output from hand distance. Each instrument has a unique way to capture the performance gestures of an instrumentalist.
The gestural instruments bring the electronics to a performative mode of articulation close to the acoustic instruments. The choice of sound materials are entirely extensions of acoustical sounds. The fundamental materials are extremely simple – most concentrating on one frequency D (294 Hz). The musical investigation comes by zooming into and expanding each simple sound into a rich timbral universe.
Commissioned by Musiques Nouvelles, Mons Belgium, and Artzoyd.
Premiered in 2003 in Mons, conducted by Jean-Paul Dessy, with Yukari Bertocchi, infrared sensors, and Laurent Dailleau, Theremin.
Performed in 2004 in Dusseldorf
CD release on Sub Rosa SR192, "Experiences de Vol"
---
Listen (128 kbps streaming)
.